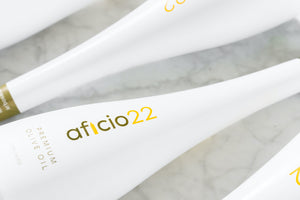 where science meets delicious.
our oil story
The olives from which aficio22 is made are grown in California. We focus on developing local partnerships – with farmers and other suppliers – because while we build our business, we want to build and enrich community as well.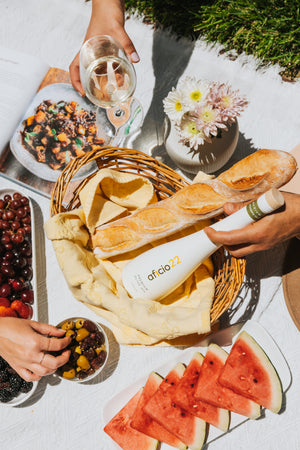 aficio22's evoo standards
Eliminate the guesswork over whether you are purchasing quality olive oil. aficio22 extra virgin olive oil is certified by the California Olive Oil Council (and that's no easy feat). The certification seal – proudly displayed on every one of our bottles – ensures that we have met the highest quality standards required by the Council as determined through rigorous chemical and sensory testing.
read more
What is Extra Virgin Olive Oil (EVOO)?
Extra Virgin Olive Oil (EVOO) is extracted from the first pressings of the olive without heat or chemicals. In addition, the oil must meet rigorous taste and smell standards through testing to be considered EVOO. 
Is EVOO really worth the extra cost?
Most certainly! The purity that comes with EVOO directly translates to better quality ingredients that taste better and provide greater nourishment for your body. We entered the olive oil industry because we were immediately struck by the unique, high-quality flavor of our oil. Additionally, by choosing to buy our products, you are contributing toward our larger mission of helping fund children's resources.
How can I be sure I am buying authentic Extra Virgin Olive Oil (EVOO)?
It is wise to exercise caution when shopping for extra virgin olive oil, as there are many low-quality imitations being sold. To ensure you are buying a high-quality product, look for seal certifications and the harvest date. Our oil is certified by the California Olive Oil Council (COOC).
Why does the California Olive Oil Council seal matter?
We pride ourselves in our California Olive Oil Council (COOC) certification because they are the gold standard. With certification requirements that are more strict than international standards, purchasing olive oil with the COOC Seal means you are buying "fresh, California-grown, 100% extra virgin olive oil — the healthiest and most delicious olive oil on the market today." Learn more about their certification process, here.
How soon does my EVOO expire?
Typically, you have about two years from the harvest date to enjoy your EVOO. Not to worry, once you try our olive oil it won't be long before you are ready for your next order!
Can I cook with EVOO?
Absolutely! EVOO is extremely stable at high temperatures with a smoke point between 374-405º F.
At what temperature should I store my olive oil?
Keep your EVOO in a cool, dark cabinet- room temperature of about 60-72º F.
How many calories are in EVOO?
Roughly 119 calories in a tablespoon. 
Why are your bottles opaque?
To maintain the high quality of our premium olive oil, we have taken extra measures to protect it from light damage, which can impact the quality of the oil.
Can I select a bigger sized bottle?
The clock starts ticking as soon as you open a bottle of olive oil – that is why our bottles are in 500ml quantities to ensure we provide consistently superior product.
Can I purchase gift packaging?
Great question! We are currently working on designing our gift packaging which will be an add-on option in the near future.
Can I find aficio22 oil at any major retailers?
No. We have intentionally chosen to ship directly to our customers via our website and social media platforms. Customer satisfaction is of the utmost importance to us, and taking this step to exceed our commitment to you is one way we strive to achive that goal.
Why did you choose to support youth-oriented organizations?
We want to be a part of building success in our communities and positively impact the next generation. Both our founders had the privilege of loving families, a home, nourishing food, and quality education. We understand that many children do not have access to the same resources and tools that will help them live healthy and accomplished lives, ready and able to take on the challenges and opportunities they will experience in life. The youth are our future, and we must provide them with equal opportunities to realize their full potential.