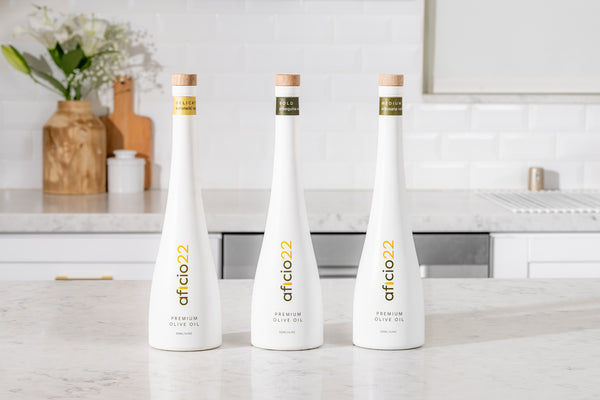 premium extra virgin olive oil
aficio22 is the complete package in kitchen creativity, offering up delicious olive oil flavors in an innovative bottle to accompany your best moments in life.
Shop Now
california sunshine, bottled
aficio22 evoo is produced in California and certified by the California Olive Oil Council to ensure you will benefit from the best nature has to offer.
READ MORE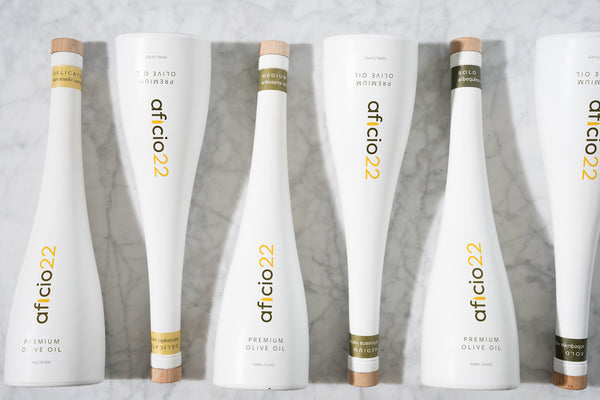 your new best friends in the kitchen
Whether you prefer big bold flavors, subtle delicate notes, or something in between, our debut lineup features something for everyone.
BROWSE SELECTION
At aficio22, we make extra virgin olive oil that tastes good and does good for the community. To us, food, family, and love are intertwined, evidenced at every meal that we take together. But it's not just about sharing a premium product, we also share our success by supporting children in need. As part of our mission, we allocate 2 percent of all sales to 2 charities each year: a promise reflected in our name.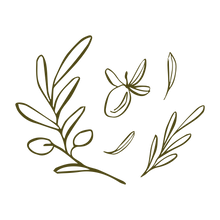 quality
aficio22 is a premium extra virgin olive oil certified by the California Olive Oil Council. Our bottles all feature the Council's Seal, meaning we have met the requirements for both chemical analysis and sensory evaluation following each harvest.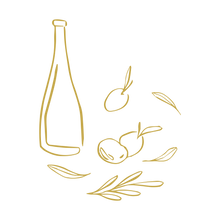 design
Heat and light degrade the quality of olive oil over time. Our bottles are designed to be both aesthetically pleasing and functional. Our opaque bottles block out harmful heat and light to sustain the oil's quality of flavor, and ensure it lasts.
health
aficio22's extra virgin olive oils, which are pure and natural, taste good and are good for you. They are high in antioxidants and monounsaturated fats, which can reduce levels of LDL or 'bad' cholesterol in the blood, thus lowering the risks of heart disease and stroke.
"You have a real winner here. Light and robust wonderful tasting-it's delicious"
"The olive oil is sooooo good. I love the bold taste of it and it really makes a tasty salad."
"We got back yesterday from our trip and recevied your package. My dad and I tried your olive oil today and all we have to say is WOW! It is so good."
"It's amazing - it smells really good and the taste is just wonderful. It really tastes like olives, which I don't recall noticing in other olive oil. I'd say A+!!!."
"We tried Aficio22's light variety. The flavor is sublime, both light and rich, clean, and surprisingly full of the taste of olives. We could see using this oil to enhance our cooking experience in a variety of ways, but I don't think anything can be more enjoyable than pairing Aficio22 with some really good bread. That can make a meal in itself."
All three are outstanding. I just placed my order for six more bottles for gifts.
Truly lives up to its name with a bold, and refined taste! My go to for salads and marinades. Will be a repeat customer!
California's Finest Olive Oils: A Trio of Flavors
Explore the world of flavor with aficio22's exquisite olive oil varieties: Bold (Arbequina), Medium (Arbosana), and Delicate (Koroneiki). Uncover the unique tasting notes of each, from robust spice to nutty elegance and delicate florals. Elevate your culinary creations with our premium olive oils. Discover enticing recipes and order your favorite flavor today.
The Rise of USA's Olive Oil: Discovering Its Origins and Insights
Unlocking the Essence of California: The Rise of American Olive Oil Step beyond the Mediterranean and discover the unexpected heart of American olive oil production: California. Join us as we uncover why California has become a vital hub for premium extra virgin olive oil and what makes it stand out. From fertile soil to sustainable practices, this is where the story of American olive oil excellence begins.